Personalized Expert Coaching for You and Your Dog(s) with Neil Sattin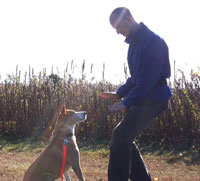 When you need help getting to the next level with your dog, whether it's solving problems, general obedience, or strengthening your relationship, personalized, one-on-one coaching is your best choice for quick progress.  Neil Sattin is uniquely prepared to help you solve any issues that you're having with your training, or your relationship with your dog, once and for all.  He has devoted the past six years to making the techniques of Natural Dog Training practical, accessible, and easy for you to implement.   With personalized coaching, you and Neil will be able to quickly find the source of whatever is going on, and develop easy-to-follow strategies to make changes for the better.
Do you need help with:
Getting your dog to come when called, no matter what?
Curing aggression that your dog is experiencing?
Ensuring that you're doing right by your dog?
Reducing your dog's level of stress and anxiety?
Stopping your dog from chasing squirrels, cats, cars, etc.?
Turning a hyper, energetic dog into a calm and well-behaved dog?
You will experience significant progress - and, best of all, Neil will show you how to have fun doing it!
If you are interested in setting up a session, please use the contact page to get in touch and set something up.
Unconditional Risk-Free Satisfaction Guarantee
Neil Sattin wants to ensure that you are completely satisfied with your experience.  If for any reason you are not feeling good about your progress within the first 20 minutes of your session, you can stop the session and receive a full refund, no questions asked.  For the "package" program, you will receive a full refund (minus used completed sessions).
Note:  Neil has studied Strategic Intervention under the guidance of Cloe Madanes, one of the top family therapists in the world.  Over the years, Neil discovered that many times, the main obstacles to change in a dog's behavior were the blocks to change within a dog's human companion.  Neil not only understands how to help you change your dog (and your relationship with your dog), he also can guide you in creating your own personal transformation, in a way that is empowering, efficient, and effective.