It's my pleasure to introduce to you Sang Koh.  Many of you might be familiar with him, as he is rather prolific with his helpful Natural Dog Training advice in the forum here on Naturaldogblog.  Sang lives in the northwest USA (in a suburb of Seattle) with his wife, Amanda, and 3 dogs.
Sang first contacted me nearly three years ago - and in the time since has become quite adept at Natural Dog Training, not only with his own dogs, but in helping others implement the techniques themselves.  We first met in person when he and his wife made a quick detour to Maine after spending some time in Vermont with Kevin Behan in the summer of 2009.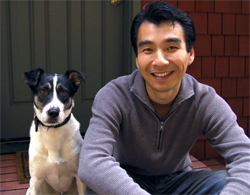 Sang and I got together via phone for an interview about his journey with his dogs - in particular his fiesty, aggressive terrier-mix Roxy - and his perspective on some of the most valuable Natural Dog Training techniques.  In this interview you will hear:
How Sang discovered - and re-discovered - Natural Dog Training.
The 3 key Natural Dog Training exercises that made a difference with Sang and his aggressive dog Roxy
How you help your dog develop emotional flexibility
The purpose of the "attention diet" - and why giving your dog attention can create problems
How to know when your needs are getting in the way of your dog's needs
Strategies for using location to break behavioral patterns with your dog
Special strategies for multi-dog households
How your emotional state affects your dog's emotional state
It's a jam-packed hour-long interview.  Enjoy here, or feel free to download and listen at your leisure.  Sang's website - should you want to contact him directly - is www.HonorTheDog.com.  Thank you, Sang, for all of your valuable contributions to the Natural Dog Training community.
Neil Sattin Interviews Sang Koh
After you listen, please feel free to head on over to the Natural Dog Blog forum and let us know what you think (or if you have any questions).